Grand Seiko SBGE267G Exclusive to Thong Sia Group The New Champagne Diamond Design Shows The Beauty Of Stability
2020.12.01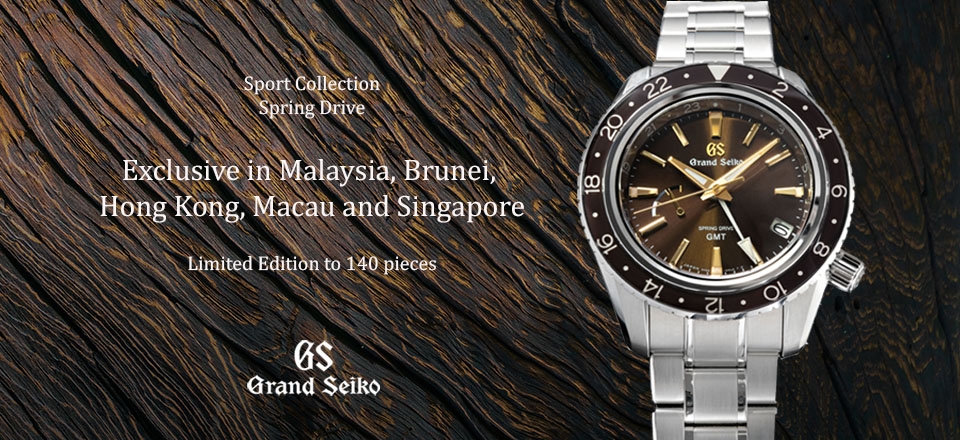 Grand Seiko is known for its quality and its adhering to the traditional Japanese aesthetic style. It boasts accurate timekeeping, therefore making the brand a model of high-end Japanese watchmaking. The Grand Seiko Sport series recently launched the SBGE267G dual time watch, which not only brings the essence of the brand to the fullest, but also goes a step further in colour by using the mature and elegant Champagne gold, which is different from the usual look and feel. The watch is exclusively represented by Thong Sia Group and is only available in Malaysia, Brunei, Hong Kong, Macau and Singapore.
Brown is the colour of the Earth, giving people a sense of simplicity and stability. When used in design, it can also be a more versatile option and will and never go out of style. In the world of watches, brown is more common on straps, but now the colour's popularity has spilled over to the watch surfaces too. The new Grand Seiko SBGE267G watch perfectly demonstrates the unique charm of the brown watch. It displays the wearer's personal taste in a low-key and implicit manner. With champagne gold embellishments, it can penetrate the noble temperament and highlights an unconventional mature elegance, making it suitable for whatever occasion.
The Grand Seiko SBGE267G watch adopts a stainless steel case and strap, inheriting the solid and reliable styles of the Sport series. The bezel is printed with a 24-hour scale, and the second time zone is displayed with the central axis hour hand, allowing the wearer to know the time of a different time zone at a single glance, perfect for traveling in style. The new timepiece is equipped with a brown bezel and surface, the latter decorated with sun radiation patterns with champagne gold hands, which injects a bright colour and highlights the time display, making it more elegant and attractive. The surface layout is simple and clear, with the thick scales and hands coated with luminous materials. The date window is located at the 4 o'clock position, whereas the power reserve indicator is equipped at the 9 o'clock position, perfectly placed to remind the energy status to ensure that the watch performs in the best condition.
The built-in 9R66 movement is a Spring Drive movement developed by Grand Seiko in 2006, equipped with GMT time display function. The movement uses clockwork as its power source, and it runs continuously for 72 hours after charge. The built-in three-energy trimmer brings high accuracy comparable to that of a quartz watch, with a daily difference of only ±1 second. The biggest feature of the Spring Drive watch is its second hand. It does not move like a quartz watch, nor does it vibrate as fast as a mechanical watch, but instead slides quietly and diligently. Just like the Grand Seiko SBGE267G watch, it does not need to be flamboyant, but can also command attention like no other.
SBGE267
- 9R66 Spring Drive movement
- Automatic winding, hand winding
- Water resistant 200m
- 72 hours power reserve
- The average daily difference is about ±1 second
- Stainless steel case and strap
- Box-shaped sapphire crystal with anti-glare coating on the inside
- Back cover crafted wit serial number and LIMITED EDITION
- Diameter: 44mm